CROATIA TROPHY 2002 - Team Pinzgauer report

After all of the hard work invested, Wouter and I finally made it to Croatia! Our first camp was in a beautiful forest setting close the border of Slovenia. It was obvious from the start that this was a serious event. All the world's best 4x4's were there and modified for racing. Unimogs, G-Wagons, Land Cruisers, Land Rovers, Nissan Patrols, a Jeep with Unimog axles, other (heavily modified) Jeeps and Suzuki's ...and one 6x6 Pinzgauer!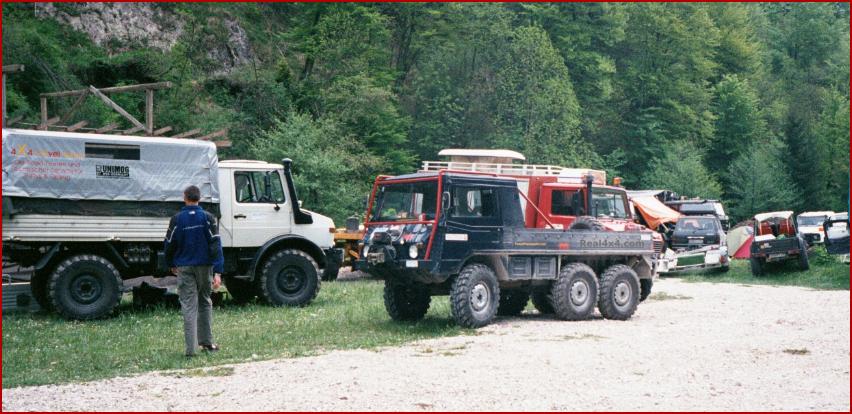 Our first official camp near the border.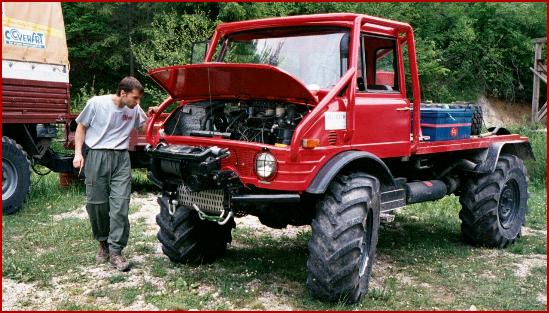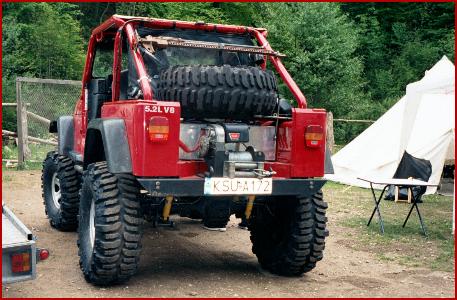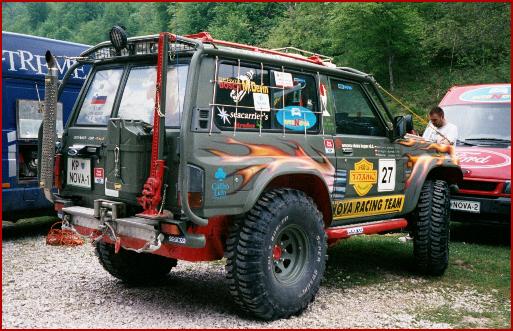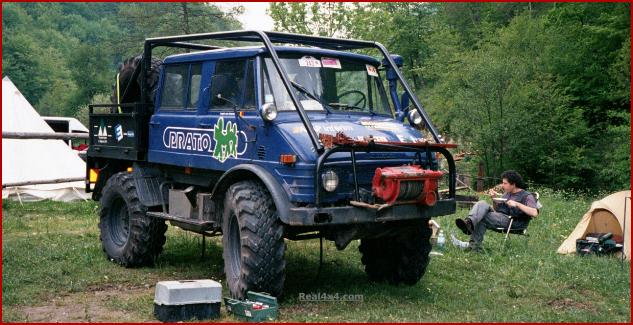 Some of the other racing vehicles... That Jeep has Unimog axles!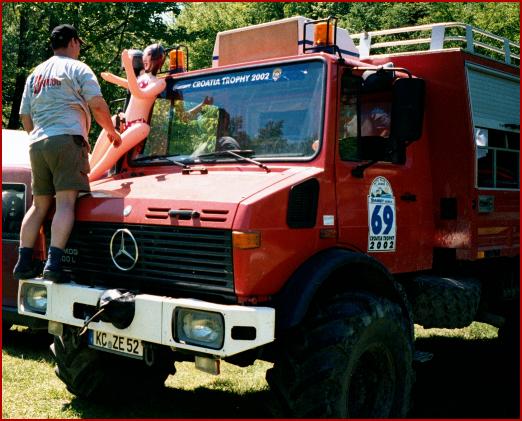 Don't ask what was going here!
The Croatia Trophy official race start.
The picture below was sent to me, showing how we took off rather fast for a 3 ton truck. (You can see the Pinz at the far left). In this part of the race, we performed very well.
The mass start was something that was basically unheard of until this year. The "Prolog" event, which was to be held the day before the race, was cancelled. It would have placed each truck in it's order to start. Since it was cancelled (due to some gov. interference) we all had to start at once! We were given a compass heading and were told that there was a hidden check-point somewhere in that direction.
That start was an unbelieveable thing to experience! Some the world's top off-road drivers were in front and behind our Pinz. We were all trying to find that hidden check-point, and find it FAST! The Pinz handled this rolling hill terrain perfectly. We were passing people left and right. Where most had to crawl over a ditch or rough spot, the Pinz would more or less float over it at much higher speeds. This allowed us to get within the top three positions in this section.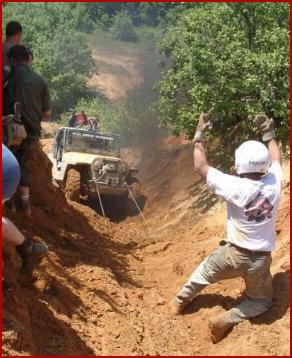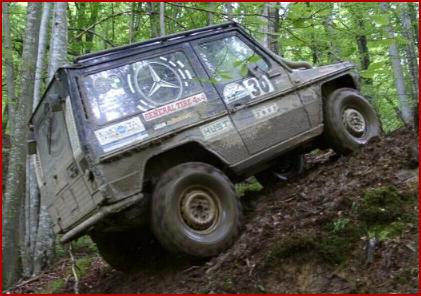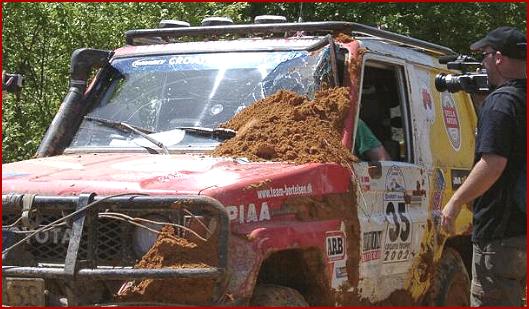 Team Pinzgauer is using the newest in LED FLASHLIGHTS BY:
Click logo for more!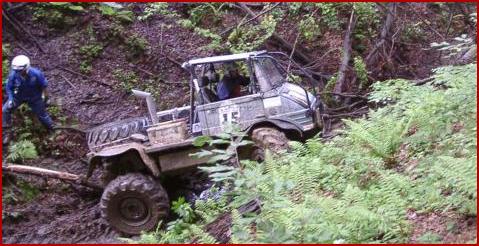 ---
We are equipped with a "LODAR" winch remote control system. Anyone who is serious about off-roading should have one of these coded, wireless systems. Operate your winch from 200 feet away! Click below for more.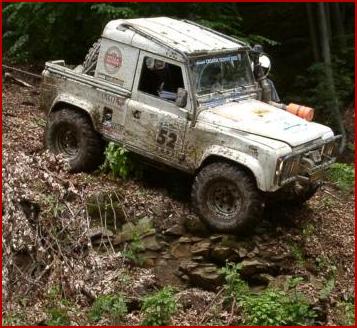 After we crossed the first check point, it was time to WINCH! We came up to a steep hillside and locked it in "All six wheel drive". It was so slick under the leaves that we only made it up 30 feet or so. The winch cable and "LODAR" remote comes out then! All 150 feet of cable came out actually... and we still needed more.
We get up to the top of the hill to find a thin logging road in which we need to set ourselves on. It was 180 degrees off of our position... which was being held with only our winch cable. There was no way to steer the Pinz onto the road. A thunderstorm starts at about this time... things get VERY dangerous for everyone. After thinking about it for a while, it was obvious that the rear "Ramsey" winch would solve this problem FAST! So we hook it up and we are on the old logging trail and ready to drive again in a few minutes time!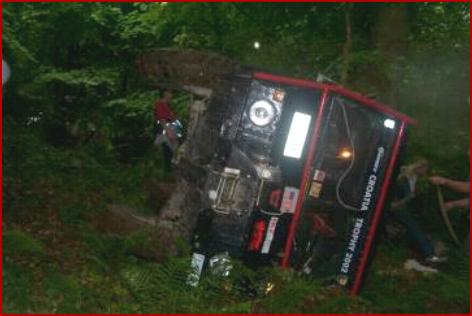 What a sore sight! This was the official end for us. It's hard to tell how dark it was getting due to the quick rising thunderstorm. This was at least a contributing cause to the accident. I have to admit to it though, tunnel vision was the biggest factor involved in ending things for us. I foolishly decided that winning the race was something I should concentrate on, when it should have just been to FINISH the race. I did not want to loose my 3rd place position and tried hard to pass everybody that I could. I passed some stuck trucks just because I could. The Pinz was the only truck (short of the Mogs) that could pass them in this section... what a mistake that was for us. After keeping the momentum up that I needed to get through the really rough and rutted section, the Pinz was launched up and to the side because of a HUGE rock that was simply out of my view.
Most likely the Pinz would have sat on it's side and we would have got things back upright and kept racing if it weren't for the drop off right next to where it rolled. It rolled down the mountain side about 4 or 5 times with me (Vince) inside it! LUCKLY Wouter had been outside the Pinz looking for a tree to winch to... he was very surprised to see that I had made it through the section without winch help, but I think he was even more surprised when the Pinz started rolling over and over, out of his view, down the mountain trail.
Somehow I survived the whole thing. I had about 30 bruises on me and a crushed foot. The foot problem is the ONLY reason the race was over for us. I could not walk, much less push a clutch pedal. Frustration is not a good enough word to describe my state of mind at the time (and even still).
Amazingly, the Pinz only suffered sheet metal damage and a broken motor/tranny mount. If only my foot would have been so easily fixed!!
After rolling over several times.

So did I learn anything from this incredible experience? Yeah... no matter how much you plan, prep or train for something,
POOP HAPPENS! even to the best of us.
Thanks to Eric Brandwine and others at the race for the fine photos!
Check out Wouter's site and racing story for more. CLICK HERE!
- Vince
Be sure to check back here for more pics and info as I get them.
---
Click here to see my "Monkey Fresh Scent" Air freshner!
[an error occurred while processing this directive] people have been here. :)

---
This page was designed by Vince Sweeney.
Copyright © 1999-2008 (Including images) - All rights reserved.